How to Make DIY CBD Lotion at Home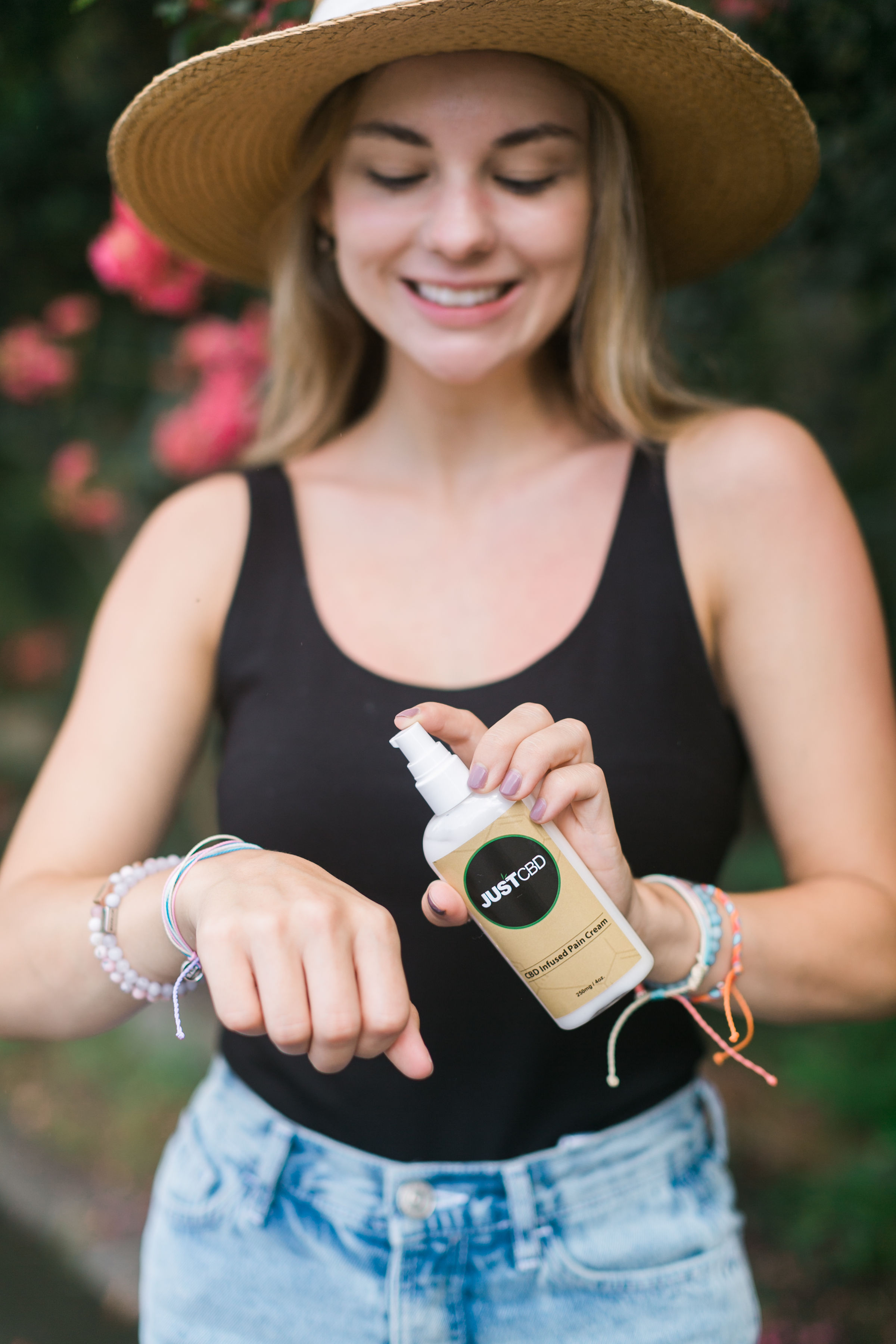 You've probably already noticed it too: CBD beauty is here, and it's begun to branch out, from vitamin-rich serums, to pain creams, to moisturizing CBD lotions.
And it's no wonder, as CBD has been reported to hold a number of benefits for the body. While CBD won't get you high, it possesses several known qualities which we tend to respond well to. This is thanks to the endocannabinoid system, which has a large role in managing and regulating functions in the body, including mood, stress, sleep habits, and appetite.
In addition, CBD is particularly known for its anti-inflammatory properties, and this is a big deal for a couple of reasons–the first being that inflammation is the underlying cause of many ailments, and the second would be that inflammation can be tough to manage.
However, CBD has had an impressive success rate with managing inflammation in a number of places throughout the human body. And would you be surprised to see that this includes our skin? After all, it's the largest organ on our bodies!
If you've experienced dry skin in the past, or are seeking out something with antioxidants to provide a more youthful glow, CBD lotion can be an excellent way to attain it.
And while you can find a variety of CBD lotions available on the market, sometimes we'd rather make our own version of natural skin care. And you can still do so when CBD is an ingredient!
In this article, we'll talk about some of our favorite benefits obtained from CBD lotion, and how to make your own CBD lotion at home.
How CBD Lotion Works
What exactly is CBD lotion?
Essentially, CBD lotion is a topical product with the infusion of either CBD oil or hemp oil, and while it won't get you high in any way, it can help lend over a few of ifs skin-soothing abilities in a few different ways–just one being the wealth of anti-aging antioxidants available, and all the better if your CBD lotion features ingredients that your skin will love.
And in a good quality lotion, you'll also get the benefits of ingredients that are naturally hydrating, nourishing and rejuvenating.
Here are a few qualities that CBD adds to a lotion formula.
1. Breakouts + Dryness
One of the most fascinating effects that CBD has on skin is through the sebaceous glands, which are among the many parts of our bodies which have CB1 and CB2 receptors.
Sebaceous glands produce sebum, a substance excreted to keep our skin lubricated. When sebum builds up, it mixes with dead skin and sweat, which often leads to clogging the pores.
If you find that you constantly suffer excess sebum, CBD can be a useful skin care ingredient, and when used in a body lotion, it can be especially helpful for those who experience breakout on their limbs, back, and chest.
2. Dry Skin
CBD doesn't just manage sebum levels by preventing overflow and clogging, but it can also work well at preventing sebum levels from becoming too low.
Because of CBD's abilities to maintain functional balance, it's able to keep your sebum at the level it needs to be; meaning that it can keep your skin from both being too oily and too dry.
Additionally, hemp contains a lot of fatty lipids, which are excellent emollients for softening and moisturizing the skin.
Because of this multi-faceted approach to hydration, daily application of a CBD lotion can also help the flare-ups of eczema and psoriasis, while cooling down existing rashes and reducing the urge to scratch.
3. Anti-Aging Benefits of CBD Lotion
Seeing that CBD can help prevent both dry skin and acne, you'd be surprised that it can be even more versatile than we've already described, but it is!
CBD also holds anti-aging properties, mainly in the form of its antioxidants.
Antioxidants protect the skin from free radicals, which are commonly encountered in our environments.
Free radicals are unstable molecules, and will try to balance themselves out by bonding with the atoms in our skin. Over time, a buildup of free radicals can cause advanced signs of aging on the skin.
Antioxidants, however, are able to neutralize free radicals to cancel them out.
Besides this, CBD may also help fade hyperpigmentation and dark spots by encouraging cell turnover. And when combined with other rejuvenating skin care ingredients, this feature may work even more efficiently.
To learn more about the benefits of CBD lotion, check out our article.
How to Make CBD Lotion at Home
While you can find quite a variety of CBD lotions and moisturizers from reputable CBD beauty brands, we know that some individuals enjoy DIY skin care.
While we normally advise against DIY treatments for the delicate skin on your face without the aid of an esthetician or skin care expert, homemade body lotions are safe; just make sure to avoid any ingredients that you've had reactions to in the past, and make sure that all of your ingredients and equipment are sanitary beforehand.

You Wil Need:

Directions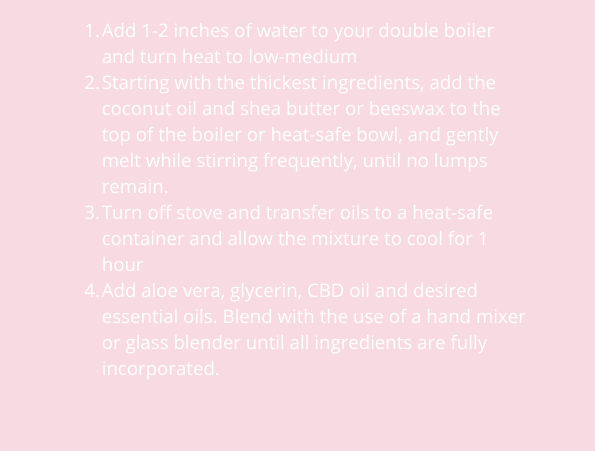 If you find that your lotion blend is too thin, melt a small amount of shea butter or beeswax and gradually add to the mixture. If too thick, add some more aloe vera and glycerin, but the key is always to add in very small increments when making adjustments.
Once done, transfer your DIY CBD lotion into the mason jar or container, and store in a cool, dry place for up to 2 weeks.
Our CBD Lotion
While a CBD lotion made from the comfort of your home can be a fun, rewarding project, it may sometimes feel like a little extra work, especially if you're seeking out the benefits of a CBD lotion long-term.
For those instances, we encourage you to buy a CBD lotion that's been expertly and responsibly formulated.
Our hemp-infused Moisturizing Body Lotion contains the hydrating, pore-balancing benefits of CBD, while the added benefits of hyaluronic acid play in, as well.
Hyaluronic acid is widely considered a skin care staple for all skin types, as it delivers tremendous concentrations of water through the lipid barrier in the skin. This helps your skin stay moisturized, clear and firm!
And for those who have a history of skin sensitivity, rest assured that our hemp-infused body lotion formula is hypoallergenic and dermatologist-tested, making it suitable for all skin types.
As a gentle, mild CBD topical, our CBD lotion is a product that's great for those trying CBD for the first time, and can be used as often as desired. For best results, though, we recommend application twice a day, especially after showering or bathing, as washing our body with soap can do a lot to strip the skin of its natural oils.
But to get the most out of your CBD lotion, it's recommended to apply daily and liberally, especially after showering. This way, your skin is always saved after it's stripped by your soaps and cleansers. Also, our hemp soap is great for the skin.
How to Apply Hemp Body Lotion
In general, CBD topicals have mild effects, as CBD absorbed through areas on the skin will stay local. On top of that, our CBD lotion has is exceptionally gentle, so this CBD lotion can be used as often as you need a burst of hydration.
FAQs
What does DIY CBD lotion do?
DIY CBD lotion can work just as well as any traditional moisturizer, the main difference is that a homemade formula will always have a shorter shelf life. While skin care products have been carefully formulated to last months, a DIY product will only last about 2 weeks.
Can CBD lotion fail a drug test?
If a CBD lotion lists pure "cannabidiol" in the ingredients list, and no "THC" or "tetrahydrocannabinol" in sight, it's safe to say that CBD lotion will not make you fail a drug test.
This is because most cannabidiol is derived from pure hemp, which has a characteristically low THC content, and even less of that amount is actually absorbed through the skin.
Is hemp lotion for pain?
While evidence that it can bring down inflammation, CBD lotion is not specifically formulated as a pain-relieving product, and isn't recommended for such use.
Elena Ognivtseva
Elena is an avid blogger who enjoys writing articles on fashion, beauty, lifestyle, fitness and recently, CBD niches. Elena has been described as a "delightfully eccentric with a creative take on things" (New York Times) with an ability to "bring you new facts that will make you go WOW!" (Vanity Fair). Elena has been writing since her uni days where she was a regular contributor to the student magazine. After pursuing a career in finance in the heart of London's financial hub, Elena has decided to start blogging in her spare time as an outlet for her creativity and ideas. During her spare time, Elena enjoy horse riding, camping and hiking, interior design and keeping abreast with the latest trends. Elena is in the process of starting up her own beauty cosmetics line in the near future. Elena is also a contributing author to fashion and lifestyle magazines and has been featured in Vice, Country Living, Harrods magazine, Daily Telegraph, Grazia and Women's Health.